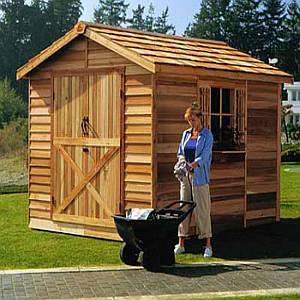 Storage Shed Kits - DIY Sheds - Outdoor
Kit includes Plans & Guides for Easy Building
Imagine the possibilities of what a Storage Shed in your garden can provide: easy access to your gardening and yard gear; a fun and creative play shelter where kids can engage their imaginations; a relaxing outdoor retreat to enjoy after a hard day at work; a protective shelter for your supply of winter firewood. The possibilities are truly endless.
In addition, storing tools, toys, and outdoor furniture in an outdoor storage can help you de-clutter your garage making it easier to park your car, truck, or other vehicles. Or, you may wish to re-organize gardening tools, mowers or edgers.
Step-by-Step plans and time saving panalized options make erecting one of these storage buildings in a day.
How long does it take to build a shed?

It depends. Larger sheds take more time. Your skills with tools have a big impact too. Most of these shed kits can be erected in a day or weekend.

What tools do I need?

Usually just basic tools like a hammer, screwdriver, level & saw. There are power tools and other tools that make it easier, but are not required.

How many people?

Many have attempted and assembled their shed kit by themselves. They all said they wish they had a helper. We agree. It goes up quicker and easier with at least one helper!

Will you really save Money with a DIY Shed Kit?

For any storage shed kit below, do-it-yourself could save you 40-60% on average.
Read more about storage sheds in this informative article.
Visit our Blog to learn more about Cedar Storage Sheds and other Storage Solutions.
Last Updated: 09/26/2018 10:10 AM - ID:435