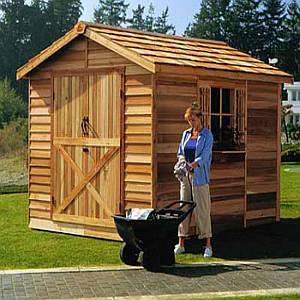 Outdoor Storage Sheds
Storage Sheds & Garden Shed Kits
Imagine the possibilities that an Outdoor Storage Shed or Garden Shed Kit can provide: easy access to your gardening and yard gear; a fun and creative play shelter where kids can engage their imaginations; a relaxing outdoor retreat to enjoy after a hard day at work; a protective shelter for your supply of winter firewood. The possibilities are truly endless.
In addition, storing tools, toys, and outdoor furniture in an Outdoor Storage Shed or Garden Shed can help you de-clutter your garage making it easier to park your car, truck, or other vehicles. Or, you may wish to re-organize your garage or existing storage shed with the unique StorageTrak wall-mounted storage system. This storage solution allows you to take advantage of precious wall space that often goes unused in garages and garden sheds.
Our roomy and inexpensive Outdoor Storage Sheds and Garden Shed Kits, and the space-saving StorageTrak Storage System, are easy to assemble and provide an attractive solution to all your organization and outdoor garden storage shed needs. The framer kits include the stud brackets and angle connectors only.
Read more about storage sheds in this informative article.
Visit our Blog to learn more about Cedar Storage Sheds and other Storage Solutions.
Clubhouse Kit
Price: $4,575.00
Sale Price: $3,445.00
Size: 12ft. X 8ft.
Last Updated: 01/27/2017 01:04 PM - ID:435