Cabana Storage Shed Kit 10ft x 8ft - Cedar
Perfect Storage Shed Kit to use as a Small Pool House or Backyard Cabana
The Cabana Shed is a multipurpose 10ft x 8ft garden shed, and can also serve as a poolhouse or poolside storage shed. It is versatile enough to be used as a child's playhouse, backyard retreat, storage shed or garden house. The Cabana shed kit includes Dutch door and 2 fixed windows, complete with window boxes and shutters! Easy to assemble pre-fab walls and roof panels with step by step instructions will have that extra needed storage available in no time. You will be surprised and amazed at how easy it is to assemble this shed kit. The Cabana will fit perfectly in your garden, yard or poolside and would add an interesting and beautiful focal point to anyone's backyard.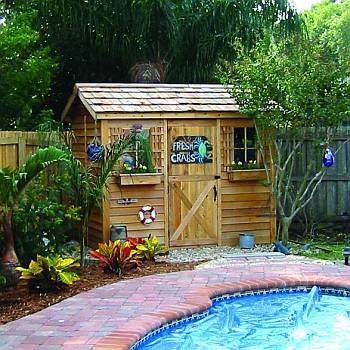 This 10x8 Cabana Shed kit exterior is made from Western Red Cedar wood. This type of wood is renowned for its natural beauty and outstanding physical properties that make it one of the world's most unique woods. Red Cedar is free from pitch and is naturally decay and insect resistant. Cedar's low density gives it an insulation value superior to most other species. Light weight, easy to work, easy to finish, possessing outstanding dimensional stability, Western Red Cedar is a preferred wood for nearly all purposes where attractive appearance or resistance to weather is important. Western Red Cedar is one of the few wood species that are naturally at home in the outdoors. It is classified as a durable wood by the building codes across North America, which permits the use of its heartwood in exterior applications without preservative treatments.
10x8 Cabana Storage Shed Manuals & Guides
Features of Cabana Storage Shed 10x8 ft
Cabana Nominal Size: 10ft x 8ft (other available sizes 9ftx6ft, 12x8ft and 12x10ft )
Panels are a mix of 3ft and 4ft wide
100% Western Red cedar exterior wood
6ft high pre-built wall panels, optional 7ft high
Overall Height: 8ft. 3in.
Inside Height: 7ft. 4in.
Inside Area: ~78 square feet
Roof overhang of 6in on gable ends and 5.75in on sides
Includes Dutch door - 36in W x H 71in H
Cabana comes with two non-functional Fixed windows 16-1/4in W x 25-1/4in H with decorative shutters and window planter boxes. Windows can be up-graded to functional windows.
Untreated Plywood floor with precut 2x4in cedar floor joists 16in OC
Easy Step by Step Instructions
Western Red Cedar Shingle Roof pre-attached
2x3in whitewood framing lumber for walls and roof
Wood Siding 1/2in x 6in Cedar Bevel Siding
Includes assembly hardware
Door and window hardware made of black powder coated steel
No cutting required
1 year limited warranty for defects in manufacturing and workmanship, 14 day for shipping damages
Price: $3,450.00
Sale Price: $2,995.00
Price: $4,290.00
Sale Price: $3,875.00
Price: $4,990.00
Sale Price: $4,299.00
Last Updated: 02/18/2020 01:36 PM - ID:6743