Slides for Swing Sets, Playsets
Options for Treehouse, Decks or 2nd Stories
No backyard swingset or playset is complete without a high quality, durable Slide. Slides give children the exhilarating feeling of Speed that is hard to resist. It is aften the center play attraction and your kids will enjoy going back up to the top and then down the slide again and again. Slides are a safe place for children to experiment with what their bodies can do - how many ways can he or she go down (or up) that slide? Having at least one slide plays an essential role in a childs development and a fun component for any backyard playground set.
To be honest, our basic wave slide is similar to what you can find at local Home Depot or Lowes, Menards etc. They are specifically designed for children. As a real life "Dad", I'd would never attempt to slide down that slide. However, I have ventured down all the aptly named "Super" slides below, as well as Heavy Duty Scoop Slide, and I felt well supported and safe on them for me. It wasn't scientific, but as a "Big" Dad, it seemed a pretty good test for me to see if it was safe for my children.
We have two slides that can go on deck heights of 7ft, 8ft, 9ft, or 10ft. One is the Super Tube Spiral slide and the other is the Heavy Duty Scoop slide. We are your source for playset slides: wave, scoop, spiral and tube!
For Details & Pricing click/tap the link below the pictures!!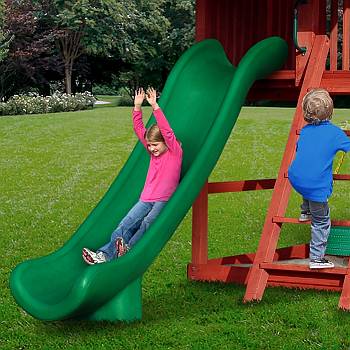 Wave Slide
Price: $395.00
Sale Price: $299.95
4ft or 5ft deck heights
Last Updated: 08/02/2017 12:28 AM - ID:422