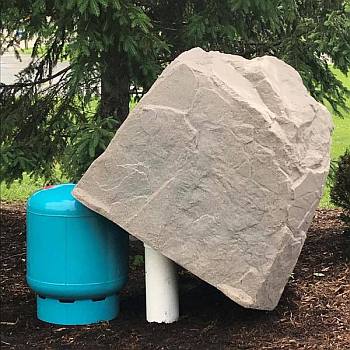 DekoRRa Faux Large Rock 123
Large Fake Rock Outer Dimensions: 42"H x 45"L x 36"W
Find DekoRRa Fake Rock model 123 at BackyardCity.com. This rock is designed to hide Utility, Wells, and pressure tank assemblies up to 36in X 33in X 27in tall. This rock measures 42 in. high x 45 in. long x 36 in. wide and weighs 32 pounds. It is constructed of an all-new textured material called RealRock™. The gritty, tough, and variegated rock-like surface is astonishingly realistic and blends in with other natural textures.
With RealRock™, not only do you achieve incredibly realistic aesthetics, but also unmatched longevity in virtually any climate. Its commercial grade construction stands up to the elements, and since the color and texture are part of the material rather than painted on, you will enjoy these great looking enclosures for many years.
Faux rock enclosures are lightweight and constructed of recyclable materials. Heavy duty ground stakes are included to keep your rock enclosure secure. A 3 inch louvered vent and a 4 inch screen vent are available for use with pump systems. There is also an insulation pouch available in green or tan as an option to protect pipes or other important equipment during the winter. The DekoRRa rock enclosures are available in four colors: Fieldstone/Gray, Riverbed/Brown, Sandstone and Autumn Bluff. When choosing a rock enclosure for an application, note the shape of the rock as well as the application measurements. Made in the U.S.A.
Features of Large Fake Rock 123
Overall dimensions at base: 42"H x 45"L x 36"W
Available in 4 colors: Fieldstone/Gray, Riverbed/Brown, Sandstone, and Autumn Bluff
State of the art, commercial grade RealRock™ material for durability
Color and texture are part of the material - not painted on
Lightweight - easy lift off - weighs 32 pounds
Heavy duty ground stakes included
Constructed of recyclable materials
Add 3 or 4 inch vents for use with pumps
Fits nicely between Models 103 & 104
Made in the U.S.A.
Last Updated: 09/05/2023 04:13 PM - ID:6778